Text Engine Productions is working with writer and director Stewart Wade (Coffee Date, Tru Loved, Such Good People) to executive-produce the first season of Coffee House Chronicles as a web series.
Coffee House Chronicles will explore the many ways that urban LGBT people connect in the world of the Internet, smartphones, social media, and coffee houses on every corner.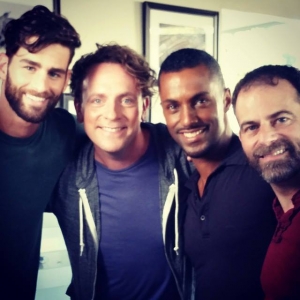 The first episode, "Secret Asian Man," has already been released. It features Mykee Steen and Cesar Cipriano in a sexy and funny story that also explores racism in the LGBT community. The second episode, now in production, features a man haunted by his perfect ex while his less-than-perfect BFF tries to get him to leave behind the idealized past in exchange for a messy, imperfect future with him. This episode features accomplished indie-film actors Chris Salvatore, Drew Droege, and Darryl Stephens, pictured left to right with writer-director Stewart Wade, and it deals with body image as well as the way gay and bi men communicate, or don't, with one another.
For more information, and to post or tweet about the series, please see these sites, and keep updated here as well.
https://www.facebook.com/coffeehousechronicles
https://twitter.com/CHCWebseries
https://stewartnla.wordpress.com/