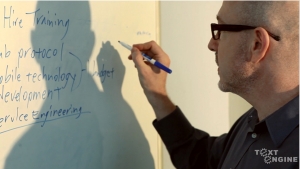 Text Engine Consulting, Inc. was founded by Alan Reade, an instructional designer and media producer with more than 20 years' experience developing courseware and new media in companies that range from software, to banks, to nonprofit community groups, in Seattle, New York, the San Francisco Bay Area, and Los Angeles.
Alan's work in instructional program development began in the software industry in the early nineties, developing technical projects for Microsoft and other companies. He developed an affinity for creating media presentations, soon working with companies such as DDB, Revlon, and Discovery Channel in Manhattan.
In 1999, in San Francisco, Alan signed on at DigitalThink, a dot-com focused on media-based training. Within a year, he was overseeing a cross-functional team of instructional designers, graphic designers, and producers to create courseware for many subjects, including information technology and banking. After those dot-com days, Alan developed help systems for the first version of Creative Suite at Adobe Systems and headed up an effort to introduce new audiences to Adobe products by producing tutorials and other technical content for online publication.
Alan started Text Engine Consulting, Inc. in 2006, to develop large-scale technical instruction for Yahoo!, Intuit, and other Fortune 500 companies in Silicon Valley. After a move to Los Angeles in 2011, Alan founded Text Engine Productions, which is focused on independent film production. Text Engine Productions currently has a number of films and web series in production that have an independent voice.